Spoiler: I rip off Moviebob with this following line, so apologies in advance...
Listen to me very carefully... I spent pretty much all season bending over backwards to give this episode a break, particularly because I'm a huge Power Rangers/Tokusatsu fan since I was little and I would like there to be another good Power Rangers series after Disney cursed the property with that God awful MMPR Revision, but mainly because I don't want the Sometimes real self important and entitled nature of Power Rangers and Toku fans to come out of the woodwork at start whining and complaining about how "WAAAAAAAHHHHHH, POWER RANGERS WILL NEVER BE GOOD AGAIN!!!!!!" So I looked for ways this could work... Maybe it'll be a decent (but not exactly perfect) conversion of the Gokaiger counterpart, maybe the cameos from past rangers won't totally be wasted, Maybe it's aimed at real young kids and that's the right way to go. In other words I tried like hell to like this...
And I just can't. "Legendary Battle" is not only the most insulting ratings trap outside of shows like Family Guy's "Life of Brian" and "The Simpsons Guy", or Spongebob's "Atlantis Squarepantis" and "Truth or Square", it's quite hands down in the top 5 worst episodes of this particular franshise possibly ever. Yes, that list also includes such stinkers as "Once a Ranger" and "Clash of the Red Rangers". So, what went wrong? In short, everything... They spend a lot of money getting these rangers out of retirement to produce this schlock... here's what they got for it, in song...
What's the story? Blah blah blah, Armada took over earth, blah blah blah, Past rangers, blah blah blah, Current rangers charge into the armada, blah blah blah, Sentai footage of the legend war, blah blah, oh my god this is so dull it's actually draining my energy, this is my kryptonite. Yeah the story sucks, oh were you looking forward to seeing Tommy back in Power Rangers? Go watch all his promotional material and you can see all his scenes... Yeah all this buildup to being the biggest Power Rangers event since Forever Red... Yeah... I'll have Zim explain that one...
I'd admit we'd have to wait until the Directors cut to get the better version, but it'll be like if the S**t they took on the Power Rangers Legacy dried up and doesn't smell as bad or look as nasty, You know the cause and effect of that. Two more things...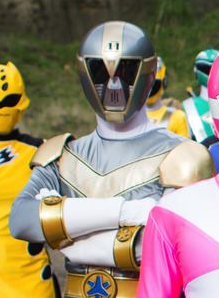 1) OH MY GOD, WHAT DID THEY DO TO THE TITANIUM RANGER!!!!! I admit he's my second favorite 6th ranger and they completely FRAKKED him up...
2) I don't have an actual picture to represent this... but guess what? There's Sentai rangers in the Mega War footage. Who are these Supersonic Blitz Lightning Prism Rangers? Are they from different Planets? Are they from different Dimensions? TELL US!!!!!
This is easily the worst thing I reviewed and gets not only a 1 Bootleg Titanium Ranger out of 4, but gets the official Anonymous Yoshi Seal of CRAP!!!!
Power Rangers Legend War... Rot in hell...