So Gokaiger Month comes to a close, with a BANG!!!!! OK probably not a big bang, but a review a long time coming. I'll try not to spoil the series to much , but in order to properly explain this series, you kind of have to spoil it, so consider this a mild spoiler warning, but This Gokaiger Review won't be a cheap imitation of a review. This'll open up with some introduction...
Gokaiger is the 35th anniversary of Super Sentai. A franchise that has stood the test of time and has survived since 1979 after being canceled in 1977. Riders, Metalic Heroes, Giant Bug Eyed Supermen, and Giant reptilian forces of nuclear destructiom have came and gone but this franchise is going to have a 39th interpretation. So how do I feel about these Pirate Rangers who use the powers of past rangers? Let's find out...
STORY:
EVERY SINGLE POWER RANGER EVER BATTLES AGAINST AN ARMADA KNOWN AS ZANGYACK, THEY USE EVERY BIT OF THEIR POWER TO STOP THEM, BUT THEY LOSE THEIR POWERS IN THE PROGRESS!!!!! HOWEVER A TEAM OF SPACE PIRATES STOPS AND GET'S THEIR POWERS!!!!!! SO TONS OF TOYS FOR KIDS TO BUY LIKE NEW AUXILIARY MECHS BASE OF OF OLD SENTAIS, RANGER KEYS, AND FULL MECHS TO BATTLE AGAINST ZANGYACK!!!! THEY ALSO BATTLE AGAINST BASCO THE RANGER KEY THIEF, AND HIS MONKEY SIDEKICK SALLY!!!!! IN THEIR FIGHT THEY MEET PAST SENSHI, USE THEIR GREATER POWERS, AND RANGER POWERS!!!!!!!
This story has to be seen to be believed, trust me, it's much more interesting than I make it sound. and it has lot's of fanservice for Sentai nuts.
CHARACTERS:
Captain Marvelous/Gokai Red is the hot headed leader who is real strong and badass. Joe Gibken/Gokai Blue is the calm one of the team, but he also served Zangyack and is an expert swordsman. Luka Millfy (
AKA MY FUTURE WI
... *Yoshiette 1 slaps A. Yoshi* I mean hottest ba... *Get's slapped again* OK Yoshiette, What the Pok
é
Fu...)
Yoshiette 1: Name me one thing you like about Luka that isn't about her Boobs.
A. Yoshi: She's got a great ass.
YE1: Close Enough.
OK, as I said... Luka Millfy/Gokai Yellow is the tomboy and the action girl, She's one of my favorites because she's attractive and has a good backstory, like the other Gokaigers. Don Dogoier/Gokai Green is the comedic relief of the main five, he kind of reminds me of me, but he can get stupid at times. Ahim de Famille/Gokai Pink is the girly girl/royal girl of the team, I don't like her as much as Luka, but she can hold her own in a fight. Gai Ikari... Oh Gokai Silver, how much I want to like you, Since you remind me the most of me, but you remind me of Kou from Dairanger, but even more on a sugar high. I think that's supposed to be the point, but that doesn't automatically make it a good thing. There is still a good thing about Gai, He's more likable than Kou.
The villains are pretty standard, with the only two who actually stands out being Barizorg (for his interesting backstory (which I won't Spoil)), and Basco (who also has an interesting backstory, and reminds me of Sentai villains like Bio Hunter Silva (from Bioman), The Alien Hunters (from Flashman), and Thief Knight Kiros (from Maskman), among others).
PRESENTATION:
The presentation is pretty good in certain aspects, but not as good in others. It plays instrumental versions of classic Sentai themes when a Gokai Change fight happens. The songs created for the series are also pretty catchy, like the main theme, and Super Sentai Getter. I also like the amount of fanservice they put in, it's a celebration of all things Sentai. However, the CG is very FUGLY!!!!!!!!!! I know It's a TV Show for kids, but it just doesn't look right.
OVERALL:
This was one hell of a birthday bash, I recommend this for anyone getting into sentai or toku for the first time, even though I kind of sort of missed out on it when it was new. I give this 3.75 Moribates out of 4.
And on that note Toku month comes to a close for another year, I hope you all enjoyed it and I think you all know the next big project...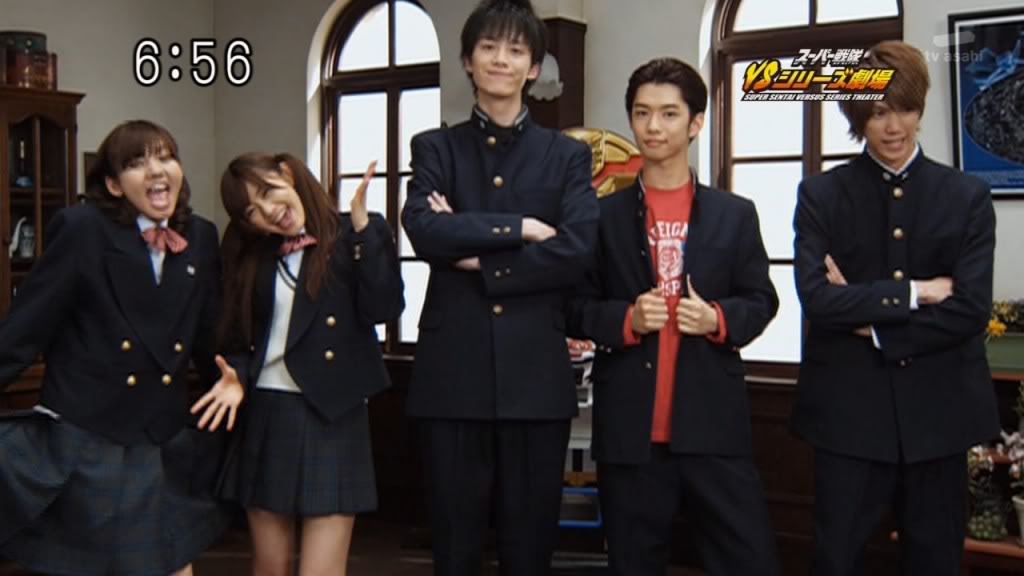 Three Guesses on what it is...