KNOCK ON THE SCREEN, GIGGLE WITH GLEE... BAAAAAAAAAAANJO-KAAAAAAAAAAAAAZOOOOIE!!!!!!!!!!!! A 1, 2, 3, 4!!!!!!!!!!! HE'S A BEAR WHO WEARS A NECKLACE, SORT OF SWEET, SORT OF RECKLESS, WEARS A BAG AND DOESN'T HIDE IT, KEEPS A LITTLE BIRD INSIDE!!!!!!!!! BANJO-KAZOOIE, BANJO-KAZOOIE!!!!! HERE'S A WITH NAMED GRUNTILDA (STRONG RESEMBLENCE TO BROOM-HILDA), KIDNAPS BANJO'S SISTER TOOTY WITH A PLAN TO STEAL HER BEAUTY!!!!! I WANT TO PLAY BANJO-KAZOOIE!!!!!! THIS IS KAZOOIE, SHE CAN TALK IN BIRD WORDS, THIS LITTLE BACKPACK'S FILLED WITH HER BIRD TURDS!!!!!! BANJO-KAZOOIE, BANJO, BANJO, BANJO AND KAZOOIE!!!!!!! THIS GUY'S MUMBO (HE CAN MAKE YOU BIG OR LITTLE), FROM WHAT I HEAR, HE PLAYS A XYLOPHONE AND FIDDLE!!!! PLAY THAT FIDDLE, PLAY THAT FIDDLE, I COULD GO FOR A MCGRIDDLE!!!!!! HERE WE'VE GOT A BIRD WITH SMALL BUT SMART EGGS, KIND OF FUNNY HOW SHE BOTH COUGHS AND FARTS EGGS (BOTH OF HER HOLES HAVE EGGS THAT CAN'T BE HEALTHY)!!!!! PLAY THAT F***ING FIDDLE MUMBO, PLAY THAT F***ING FIDDLE MUMBO!!!!!!!!!! BANJO-KAZOOIE, BANJO-KAZOOIE!!!!! PLAY THAT F***ING FIDDLE MUMBO, PLAY THAT F***ING FIDDLE MUMBO!!!!!!!!!! I WANT TO PLAY BANJO-KAZOOIE!!!!!! FIGHT WITH CARROT, KICK IT WITH A TURTLE CHOIR, BANJO'S A BEAR WITH QUESTIONABLE DAY ATTIRE, IS SHE A PARROT (MY BRAIN IS ON FIRE)!!!!!!!! BANJO-KAZOOIE!!!!!!!!! OOH-DELLALLY!!!!! BANJO-KAZOOIE, WHAT A @#!$ING GAME!!!!!!!!!
With Yooka-Laylee and the Rare Replay Collection, I think the stars are aligned for a Blog on Banjo-Kazooie...
In 1995, Project Dream was supposed to be Rareware's next big game. It stared a boy named Edison as he fought against a gang of Pirates. It was supposed to be a huge game for the Super Nintendo, with great graphics, a huge soundtrack by Grant Kirkhope, and an epic campaign (since it was an RPG at first). Several changes were made, Like Edison changed from a boy, to a rabbit, to a Bear named Banjo, as well as being transferred to the N64, and having a complete design overhaul. It was introduced in E3 1997 as Nintendo's big Holiday game for the N64 with an accompanying Campaign from Taco Bell. It was delayed to make sure the game was perfect. So that title was replaced by Diddy Kong Racing, Where the bear was shown to the general public for the first time, along with another game that I'll talk about, Conker... On June of 1998, the game was released...
Banjo Kazooie Stared a Bear and Bird Duo, They were relaxing one day, when a witch named Gruntilda stole Banjo's little sister Tooty. They went through several Worlds with colorful Characters like Spiral Mountain, Mumbo's Mountain, Treasure Trove Cove, Clanker's Cavern, Bubblegoop Swamp, Freezeezy Peak, Gobi's Valley, Mad Monster Mansion, Rusty Bucket Bay, Click Clock Wood, and the Hub World, Gruntilda's Lair. It's pretty much a mix of Mario 64, and the Donkey Kong Country trilogy on the Super NES. You could learn various moves from thrusting Kazooie, Running, and Flying from Bottles the Mole. You also got various power-ups like Speed Shoes, Swamp Boots, and various transformations from Mumbo. You got to shoot eggs from Kazooie's mouth or ass. Collectibles were eveywhere, Jingos, Mumbo Skulls, Notes, and Jiggies. It was a perfection of Mario 64, as much as Donkey Kong Country was for for Mario World. It got Critical and Commercial success, for it great graphics, vibrant and colorful worlds and characters, and perfecting the Mario 64 formula. Though if you play the game all the way through you might see some bigger Beach Balls than expected if you know what I mean... Rated E for Everyone ladies and gents. It still sold 3.65 Million units.
Every BK fan knows about Stop N' Swap, Look other people better than me have already discussed it in great detail, so there's a whole sea of posts and videos on the subject, So if yo want to know the basics, basically you could find eggs and a key in various locations by entering codes at the cheat place in Treasure Trove Cove and heading to secret locations and they were supposed to give you extras for the sequel, but technical limitations prevented anything like that from happening...
Fans wanted more, so in 2000, we've got it. Banjo-Tooie (originally developed for the 64DD) had Gruntilda revived as a skeletal being, her, her sisters, and the rest of her team destroy Spiral Mountain. Banjo heads to the Isle O' Hags, to beat Grunty again. They go through more worlds like Mayahem Temple, Glitter Glutch Mine, Witchyworld, Jolly Rodgers Lagoon, Terrydactyland, Grunty Industries, Hailfire Peaks, Cloud Cuckooland, and Cauldron Keep. Each of these worlds were big, colorful, filled with interesting characters, and had a boss at the end, ranging from easy to just plain unfair. You got even more abilities (like separating Banjo and Kazooie), more power ups (like new types of eggs for Kazooie), and more stuff to collect and do. It rivaled BK in terms of praise, it was praised for having better graphics at times, being bigger, and having more bang for your buck. However, it was criticized for frame rate problems at times, and not being newcomer friendly. The game only sold around half as much as the original did, mainly due to the N64 losing steam at the point of said games release.
In between the release of this game and the next big release game, there were a couple spin offs, neither of which were regarded as anyone's best work. Also HD Ports for XBOX Live Arcade of the first 2 games, which didn't change much from the classics we grew up with, other than cleaning it up. Banjo-Threeie was teased at the end of the last game much in the same way Tooie was teased at the end of Kazooie. A Tech demo was shown at SpaceWorld of 2000 for the Gamecube, Then BAM, Microsoft Buyout!!!! Several Ideas were suggested for Banjo Threeie, none of them were used until Banjo Kazoomie (a Mario Kart clone with Vehicle Building), Ideas of both games were used for the next game which was teased at E3 2006. It was released 2 years later for the XBOX 360. This game came to be known as...
BANJO-KAZOOIE: NUTS & BOLTS!!!!
8 years after Banjo-Tooie, Banjo and Kazooie are now overweight, and out of shape. The Skull of Gruntillda and Banjo were challenged by the Lord of Games to a set of missions to see who can outdo each other. The game had you building Vehicles to traverse the world, or you could buy blueprints from Mumba Wumba for prebuilt vehicles. You did various missions across various worlds (which were pretty forgettable for the most part). It was very alien compared to the first 2 games. no platforming, very little stuff to collect, and the characters were all redneck stereotypes and not as colorful. It's a case where an old school franchise received so much AAA Bloat that it forgets what made the classics famous, along in the same camp as the SimCity Reboot. The game received average reviews with people praising the building mechanic, and bigger worlds, however those same people say it just wasn't a true Banjo-Kazooie game, the games sales reflected the average reviews.
After the less than stellar sales of Nuts & Bolts, Banjo-Kazooie just wasn't a profitable enough property anymore, but with the release of the Rare Replay Collection and Yooka-Laylee, the future for the franchise looks surprisingly bright. Maybe with a new but familiar retooling like Ratchet & Clank from the PS2 to the PS3 or Metroid from the SNES to the GameCube, The series might be come relevant again...
NEXT TIME:
Another Rareware Property from Diddy Kong Racing: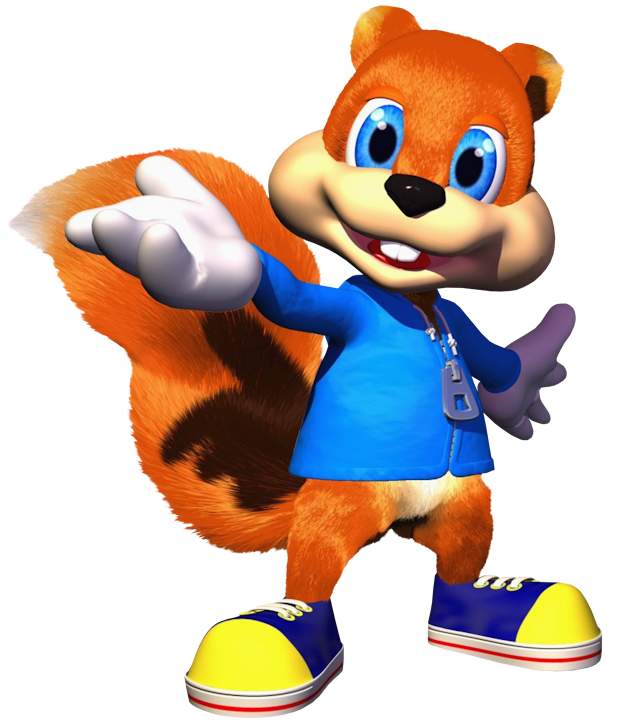 Conker Says "HAPPY 7/11!!!! BE SURE TO GET YOUR FREE SLURPEE TODAY!!!!!"