The PS1. The most successful console of it's time, with 102 MILLION UNITS Sold worldwide, Not a failure by any means. It's not my favorite console of the era, but it is the most interesting, with a history going as far as the 1980s, a full decade before the console was released. It popularized CDs as a legit form of storage for games. It started with a deal gone bad with Nintendo, and evolved to one of the biggest names in gaming. This is the story of the Sony Playstation...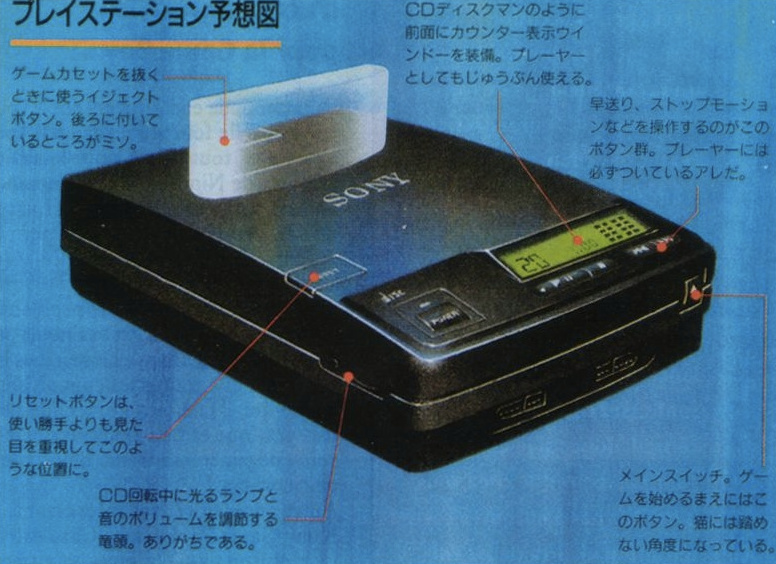 It all started in 1988, when Sony teamed up with Nintendo to develop a disc based add on for the Super Nintendo. Think of it as a more powerful version of the Sega CD. In 1991, Sony introduced the world to the Sony Play Station (2 words). After Nintendo read into the deal, they saw that Soy got all licensing rights to all the games. Nintendo decided to work with Phillips instead, and that upset Sony, who spent a lot of money to develop the system. You know, Nintendo could have been adults about this broken deal, by negotiating to make the deal more favorable, if that happened, we wouldn't have a PS1 to speak of. Philips got the rights to use Nintendo Characters for the CD-i, The best thing we've got out of this whole thing was YouTube Poop. DINNER! SQUADALA! SPAGHETTI! Sony learned a lot from this whole skirmish, they spent years to work on a new prototype and 21 years ago on this very date, Japan first saw...
The Playstation. It was later released in America on September 9, 1999... wait... Oopsiedoodle, wrong console, I meant to say 1995. It was released with a 32-bit 33.8688 MHz CPU, A motion decoder for FMV Playback, a Sound Processing Unit (or SPU), 2 MB RAM, 1 MB VRAM, A GPU and Geometry Transformation Engine (GTE) For Graphics, 16.7 Million Colors, 4,000 Sprites on screen, Up to 360,000 Polygons at a time, 254x224 resolution with it being scalable up to 640x480 for some games, and 16 bit 24 channel PCM For Sound. In simple terms. It was able to do really good 3D for the time, better 2D than the SNES, and games sounded great with the red book audio only CDs could bring.
Another Popular feature was the Memory Card. Since games are stored on huge hard drives, we take video game storage for granted nowadays, but think about it, there was a time when Some games would take half or all of the storage with the cards being 15 blocks and 1 Meg. I love this little feature, It kind of reminds me of a flash drive, with no moving parts, weight in your hands, and you could fit data for up to 15 games. But what's a game console without a...
The PlayStation was essentially the SNES Controller with a better D-Pad, Extra Triggers, handles, and the familiar X, Circle, Square, Triangle Icons. The Controller was pretty much dated when the 64 ca,me out, so they perfected several of the ideas of that console including Dual Analog Play (with the Dual Analog), and built-in rumble (with The DualShock Controller, a design that's still being used up to the PS4).
FAST FACT:
In Japanese games, the X and Circle buttons were inverted with X being Cancel, and Circle being Accept, while overseas it was the other way around...
Those weren't the only peripherals for the system, Here are just a few, both official and unofficial...
One last thing (no pun intended), The PSOne was a smaller, portable version of the Playstation. You could also get an LCD Screen for it in case you wanted to...
Yoshiette 1:
AAAAAAAHHHHHHH!!!! DO YOU MIND?!?! DON'T COME IN THE BATHROOM WHILE I'M PLAYING DIGIMON WORLD AND HAVING EXPLOSIVE DIARRHEA AT THE SAME TIME!!!!!!
GAMES:
There's just so many classics on the PS1, Here are just a few...
Let's begin with a true Classic, Gran Turismo is the best selling game on the console, but Gran Turismo 2 was even better, It was a realistic racer, with real cars, real brands, and realistic physics.
Twisted Metal, another popular PS1 Franchise (with 2 being a fan favorite), the worlds were destructive, the characters were creative, and it has every ___ive in the Book...
PaRappa the Rapper, a creative Rhythm Game with Better raps than what we have today.
Medievil, a unique action adventure game with elements of Zelda, Beat 'em Ups, and platforming...
Ape Escape. A Fun platformer that made full use if the DualShock Controller. It was innovative, and surprisingly complex.
The Playstation didn't have a mascot Per say, but it did have characters Like Crash, Spyro, and to a lesser extent Croc, yeah does anyone remember Croc? Anyone? At all? These had some great 3D platformers, maybe except for Croc, who's games were just pretty good...
The Playstation wasn't Just any Kids console, as Games like Capcom's Resident Evil series Would prove, it was violent, brutal, and the prerendered levels looked beautiful.
Konami's big offer for the PS1 was Metal Gear Solid, with in game cutscenes that made it feel like an interactive movie and gameplay that had Tactical Espionage Action...
M rated games weren't all that adults enjoyed, with the ultra realistic Namco's Tekken series, with real martial arts, the perfect balance of Realism and fantasy, and a roster of characters where anyone can find their favorites.
RPG's were in abundance on the Playstation, Enix's Dragon Quest VII was just one of them. It was an artistic RPG With Akira Toriyama's distinct art style. It became the greatest selling PS1 title in Japan...
Eidos' Tomb Raider...
Joe Tokugawa: Pixelated Boobies!!!!
*ignoring* Eidos' Tomb Raider, buxom Indiana Jones style action, with action (not the action Joe's thinking of), exploration, and puzzle solving.
I feel like I'm Missing something, like a game that sold the Playstation and popularized a genre in America... a game like...
Square's Final Fantasy VII, With Beautiful prerendered worlds, a vast selection of characters, and bringing a whole series to... 3 D!!!!!!!!!!!!!!!! The game was so big that it's getting an HD Remake on the PS4... and we've finally come full circle after 20 years...
How can I experience it for myself:
Get a console and some games (you can find PS1's at the Goodwills for like $10, but specific games have risen in price which is to be expected out of consoles like this), or emulation ((AKA the artificial way) There's plenty of emulators with various variables, so choose your destiny...).
We conclude this retrospective of the consoles of this era with:
My favorite handheld of the era, and it was only released in Japan.
All images belong to their respective owners and this blog is meant to be educational, so these images are protected under fair use. However, if you'd like one or more images taken down, please contact me at Anonymousyoshi007@gmail.com.