Manga is one of Japan's oldest art forms, it goes back as early as the 18th century, at least... But one genre attracts young boys, teenagers, and
salarymen
alike. That is the Shonen anime. It has elements like Martial Arts, Mecha, sports, horror, Sci-fi, and epic overly drawn out stories and arcs that go on for years on end.
but
It's beginnings are interesting, so let's go to the Age of Shonen Weeklies...
In the late 19th century, there was a magazine called Shonen Sekai (or The Youth's World), that featured stuff Kids at the time were really into, like Board Games and Baseball Cards. It had a lot of historical manga, especially ones taking place in the Edo period of Japan. Today it seems to be
lsot
in time, but it did give birth to the first Shojo (or Girl manga) anthology (Shojo Sekai), and the first Kodomo (or Young Kids)
antholgy
(Shonen Pakku). A lot of the series and copies of the anthology were destroyed in World War II, but the ones that survived are now preserved...
After World War II, The Manga industry was not that good, since
kids
didn't have the same Income to buy manga than they used to due to all the destruction of that era... But it was up to one man who single handedly changed Manga Forever, he was...
OSAMU TEZUKA!!!!!
His body of work included such big names as Astro Boy (or Mighty Atom in Japan) which ran for a whopping 16 years and 23 volumes. Another earlier work is Jungle Emperor (or Kimba the White Lion), One of the first modern ongoing series aimed at young boys.
and
he did one off stories like Metropolis (loosely based off the 1929 film of the same name) and New Treasure Island (arguably one of the very first modern manga), his body of work expands over 700 volumes.
In the mid to late 1950s, there was a boom in Manga Weeklies, These were aimed at an older audience (IE Salarymen). Some names include Weekly Manga Times, Weekly Manga Sunday, Weekly Manga Goraku, and Weekly Manga Action. Some of these are popular to this day. But an
evergrowing
Rivalry was born out of Manga weekly
vs
Manga weekly. This is the age of Shonen Weeklies...
Released in March of 1959, Kodansha's Weekly Shonen Magazine had everything Kids at the time were into, manga, sports, movies, and as the years went on they included Anime news, Tokusatsu talk, and Video Games. Some of my favorite series in the Magazine include Tiger Mask (a Wrestling Manga), Kamen Rider, Devilman (a horror Manga), Skull Man, and Cyborg 009. It is the second biggest Shonen Manga anthology today.
Released a month later, Shogakukan's Weekly Shonen Sunday, was very similar to
it's
rival, but it featured some series that made Viz Famous like Ranma 1/2. My other favorites include Urusei Yatsura (featuring a girl who always wears a Tiger Bikini), Kiakider (based on the
Toku
), Patlabor (with A giant Police Robo), Inazuman (based on the
Toku
), and Yaiba (Dragon Ball mixed with Rurouni Kenshin).
These 2 anthologies duked it out for half a decade, Until
a
obscure
competior
came out. That was...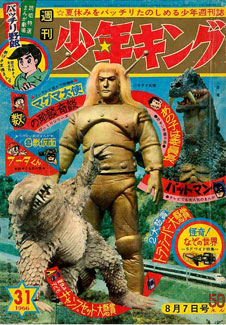 Shonen Gahosha (who ironically doesn't produce Shonen Manga anymore) made Weekly Shonen King (a spin off to Shonen Gaho)... It didn't have the most well known titles (which is kind of why it died out), but for a brief period in the 60s and a good portion of the 70s, it was a reasonable competitor to
Magazine
and Sunday. King had titles like the original Cyborg 009
arc
, Batman (based of the 60s series), and Doraemon's creators Fujiko Fujio's manga before Doraemon, Kaibutsu-Kun (a gag manga with horror elements). They're most well known contribution was Galaxy Express 999...
Released Later in the 60s, Shueisha's Weekly Shonen Jump was the little Manga anthology that could... It was a the successor to Shonen Book, which was a spin off to the even more obscure Omoshiro Book (or Funny Book)
.
It didn't have the backing of bigger Mangaka like Go Nagai or Osamu Tezuka, but it had loads of new talent via talent searches. It made big names out of Yudetamago (Kinnikuman), Yoichi Takahashi (Captain Tsubasa), Tetsuo Hara (Fist of the North Star), Yoshihiro Takahashi (Ginga: Nagareboshi Gin), Tsukasa Hojo (Cat's Eye, City Hunter), Akira Miyashita (Sakigake!!
Otokujuku
), Mursame Kurumada (Ring
ni
Kakero, Saint Seiya), Hirohika Araki (JoJo's Bizarre Advenure), and of course Akira Toriyama (Dr. Slump, Dragon Ball). That was primarily in the 70s/80s, there's several Mangaka and series that span almost 5 decades.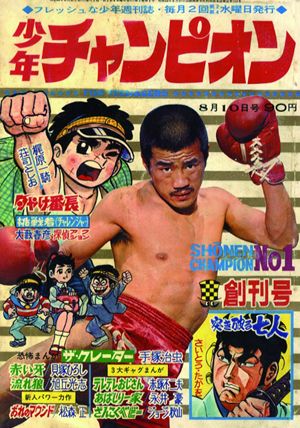 Akita Shoten's Weekly Shonen Champion was the baby of the big 5 of the 70s, though it was released in 1969. Still, it managed to bring such successful series as Black Jack (one of Tezuka's later series), Cutie Honey (The Sailor Moon before Sailor Moon), Dokaben (a long running Baseball series), Apocalypse Zero (a really violent series for a mid-90s
shonen
) and Grappler Baki (a long running Mixed Martial Arts series that has some of the most detailed muscle illustrations ever).
The 70s happened and the
shonen
manga golden age was in full swing.
Magazine
had Tiger Mask, Ashita no Joe, Kyojin no Hoshi, and Devilman. Sunday had Ganbare Genki, Cyborg 009 (the 7th arc), Urusei Yatsura, and a few
Toku
Inspired Titles.
Jump
had Kochikame, Astro Kyudan, Mazinger Z, Circuit no Okami, Doberman Deka, and Ring
ni
Kakero. Champion had Black Jack, Cutie Honey, and Dokaben. King didn't really have the titles and started to decline. In the 80s, the Manga top 5 introduced
their
new lineup for a new generation as well as
spinoffs
for
seinen
manga and video games. Shonen King became
semimonthly
, and the other 4 thrived on for years to come.
Shonen King did have a couple of titles in the 80s, including Locke the Superman and Legend of the Heavenly Sphere Shurato, but it wasn't the powerhouse it was in the 60s. On December of 1988, the Magazine was canceled and Shonen Gahosha produces Young King and Young King OURs nowadays.
In the
90s after
Dragon Ball ended, Weekly Shonen Magazine took the throne from Jump magazine. With Titles like Samurai Deeper Kyo, GTO, School Rumble, Love Hina, Hajime no Ippo, Kindaichi Case Files (both of Which run to this day), Boys Be, RAVE, Croamite High School, and GetBackers. Sure Jump Had YuYu Hakusho, Jojo's Bizarre Adventure, Shaman King, Slam Dunk, Hikaru no Go, Hell Teacher Nube, BØY, Rokudenashi Blues, Jungle King Tar-Chan, and Rurouni Kenshin, but most of them were trying to make the Dragon Ball lightning strike twice. While on the Sunday side of things they had Ushio and Tora, Detective Conan (running to this day), Flames of Recca, Inuyasha (which was its golden boy for years), and Project Arms... Later in 2002, Jump outdid Dragon Ball's success with Series like One Piece, Naruto, Bleach, Bobobo-
bo
Bo-
bobo
, and Eyeshield 21...
Since 2002, Shonen Manga has had Death Note, Gin Tama, Reborn, D. Gray Man, Toriko, Medeka Box, Beezlebub, Assassination Classroom, Zatch Bell, Kenichi, Kekkashi, Hayate the Combat Butler, Zettai Karen Children, Kongo Bancho, Air Gear, Negima, Tsubasa: Reservoir Chronicle, Fairy Tail, New Akita Shoten produced Saint Seiya Series, Grappler Baki sequels, and....
SYSTEM OVERLOAD!!!!!
SIGNAL LOST!
All images belong to their respective owners and this blog is meant to be educational, so these images are protected under fair use. However, if you'd like one or more images taken down, please contact me at Anonymousyoshi007@gmail.co